Can a low cost, folded up piece of cardboard help you show off your campus using some of the coolest new technology out there
Absolutely, with Google Cardboard! Google Cardboard is a virtual reality platform that allows the user to look through a headset reminiscent of the ViewMaster (remember that from your childhood? Nah...you're too young!) and navigate through immersive images with a tilt of the head. A smartphone is inserted into the headset and displays panoramic images from a website or through one of the many apps that are being developed with Google's OpenGL (open source) code available to everyone. Anyone can make the headsets out of cardboard using the free assembly instructions, or they can be purchased through a third party. And they are relatively inexpensive — a DIY kit by INSTEN is only $6.99. The more fancy ones are made out of materials other than cardboard and include a strap that goes around your head.

According to Wikipedia, as of January 2016, over 5 million Cardboard viewers have been shipped and there are over 1000 apps out there. New content is being created all the time. Google even launched a worldwide program called Expeditions in which they distribute headsets and smartphones for free so that students can take "virtual field trips" and teachers can facilitate learning through the use of powerful visuals. Seeing really is believing and a picture might just be worth a thousand words!

How does it work? The content on your phone is split into two screens- one for the left eye and one for the right. The term is stereoscopic imaging. The two screens are synchronized, so when one rotates with your head, so does the other. The Cardboard viewers allow you to transport potential students to your campus from anywhere in the world and immerse them in your surroundings.

So picture this, you are at a recruiting event and at your table the potential students and families can put on one of your Google Cardboard viewers and take a 360° tour of your campus. Or better yet, you can send them home with one that has your logo and virtual tour address printed on it. Or, you may have a family in another country who can't make the trip to see your campus in person, so you just pop a Google Cardboard viewer in the mail to them with the URL they can visit to take your tour in virtual reality. Now that is memorable!

You can check out The McCallie School's virtual tour on your Google Cardboard headset, if you have one. Or just see how it is set up on your mobile device.
If you need help setting up your 360° tour so that it is viewable on a Google Cardboard headset, or if you need a 360° virtual campus tour, drop us a line!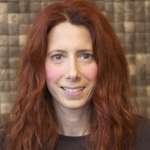 President, Circlescapes Virtual Tours
Lisa, along with partner Jared Varon, founded Circlescapes in 2008. Lisa has a background in technical communication, earning her Masters Degree from Portland State University and working for companies including Intel, Nelnet and Hewlett Packard. She also owned her own web design firm, blue box designs. Circlescapes was born out of a web client's need for a high end virtual tour with a custom-designed interface and high quality images.